Records, records, records...
Software:
For every homeschooler this is a topic that can be scary, confusing, and very costly. After reviewing two software programs- I highly recommend
Homeschool Tracker
for low cost, easy use, and awesome customer service. Their program is very thorough and top notch! They also offer a FREE basic program. However, the purchased one is MUCH more thorough, cleaner, and easier to use.
(On a brief side note, I did try - and unfortunately bought - Edu-Track. Their 14 day guarantee is NOT valid and smothered with "fine print". Furthermore; their customer service was not only horrible, more-over their manners borderlined on customer abuse.)
FREE Record Keeping Download (wrd, pdf, and excel):
If you're looking for a FREE FILES and willing to do a little more work,
DonnaYoung
has several great forms and a
free program for attendance and grades
(GPAs included!). This
downloaded program
does not contain a transcript, daily lesson planning, or "lists". However, her site does contains SEVERAL other
free forms
and
lesson planning files
(and more
lesson planning files
) to help with this! Check her out!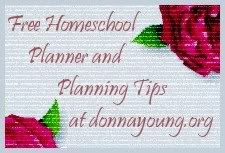 Transcripts:
If your looking for east-to-use downloadable transcripts try
this one
,
THIS ONE
,
this one
, or
this one
.
Magazines...
The Old School House
LOTS of FREE information...
Lifeway
(Homeschooling)
Cindy Downes
(Homeschool Forms, Lesson Plans, and a plethora Information)
Considering Homeschooling
Homeschool Launch
(pdf files for everything)
Eclectic Homeschooling
ABC Teach
(lesson worksheets)
YOU CREATE
Crossword Puzzles
! (use IE!!!)
Enchanted Learning
(some free, some only with membership)
Read, Write, Think
(Language Arts lesson plans and worksheets!!!)
Math Drills
Homeschooling on a ShoeString Budget
(cutting costs while homeschooling)
Budget Homeschool
Math Worksheets
Answers in Genesis
(online study guides)
Love to Learn
School Express
(worksheets, games, make worksheets, and United States Units.)
Make Your Own Puzzles
(GREAT for vocabulary lessons!!!)
Helping with Math
(worksheets!)
Dynamic Moms
(Lapbooking, Notetaking, Unit Studies, and Planning)
Wallbuilders
"WallBuilders is an organization dedicated to presenting America's forgotten history and heroes, with an emphasis on the moral, religious, and constitutional foundation on which America was built – a foundation which, in recent years, has been seriously attacked and undermined. In accord with what was so accurately stated by George Washington, we believe that "the propitious [favorable] smiles of heaven can never be expected on a nation which disregards the eternal rules of order and right which heaven itself has ordained.""
FREE online magazines...
Heart of the Matter
Homeschooling Parent
FREE Educational Reference Links...
Kids' Search Tools
(Safe search engine!)
Word Central
(Dictionary & Thesaurus)
Academic Kids
(Encyclopedia)
Books to Read...
Beyond Survival: A Guide to Abundant-Life Homeschooling
College-Prep Homeschooling: Your Complete Guide to Homeschooling Through High School
Heads Up Helping! Teaching Tips and Techniques for Working with ADD, ADHD & Other Children with Challenges
Help! I'm Married to a Homeschooling Mom
High School at Home: You Can Do It!
Home Learning Year by Year: How to Design a Homeschool Curriculum from Preschool Through High School
Homeschooling: The Early Years
Homeschooling: The Teen Years
How to Be a Great Wife . . . Even Though You Homeschool
How to Go to College Almost for Free
Lies Homeschooling Moms Believe: Learning to Live the Truth, the Whole Truth, and Nothing But the Truth
So You're Thinking About Homeschooling
Teaching High School at Home
The First Year of Homeschooling Your Child
The SAT & College Preparation Course for the Christian Student, Expanded Edition
Tutoring Your Elementary Child with TLC: A Practical Guide with Fun and Effective Teaching Tips for Parents
When Homeschooling Gets Tough: Practical Advice to Stay on Course
You've Decided to Homechool, Now What?
--------------------------------------------
Our Curriculum Choices...
Science:
Apologia
(w/ CDs),
Answers in Genesis
Math:
Saxon
(w/ CDs),
Teaching Textbooks
(Complete Sets)
Literature:
Progeny Press
,
Discovering Literature
Writing:
SWI
History:
Mystery of History
Bible:
Misc. Devos and Studies
for (Teen) Girls,
Heart Connex
,
AOP
,
AWANA
, and regular church attendance
Vocabulary:
Wordly Wise 3000
Spelling:
Core Skills
*We also HIGHLY recommend that every high school student attend
Teenpact
at least once!*
Happy Learning,